The genteel and peaceful life of the Maranaos, the people of Marawi, Philippines, was abruptly disrupted on May 23 as militants of the Islamic State of Iraq and the Levant, including the Maute and Abu Sayyaf Salafi jihadist groups, took siege of the city. Their goal was to establish the first ISIS stronghold in Asia. The Maute rebel group attacked Camp Ranao and occupied several buildings in the city, including Marawi City Hall and the city jail. They also occupied the main street and set fire to Saint Mary's Church, Ninoy Aquino School and Dansalan College, run by the United Church of Christ in the Philippines. The group also attacked the Marawi Cathedral, taking a priest and several churchgoers hostage. The two business districts of the city were burned to the ground. Rise Against Hunger Philippines has stepped in to provide emergency response in the wake of this crisis.
The violent incidents prompted President Rodrigo Duterte to place the entire island of Mindanao under martial law. The Philippine army launched a massive counter offensive against the militant groups. Military airstrikes have literally burned the city, where it is now uninhabitable.  As of June 28, the casualties reported are as follows: 303 militants killed, nine militants captured, 75 government forces killed, 297 government forces wounded and 127 civilians dead (59 due to illness).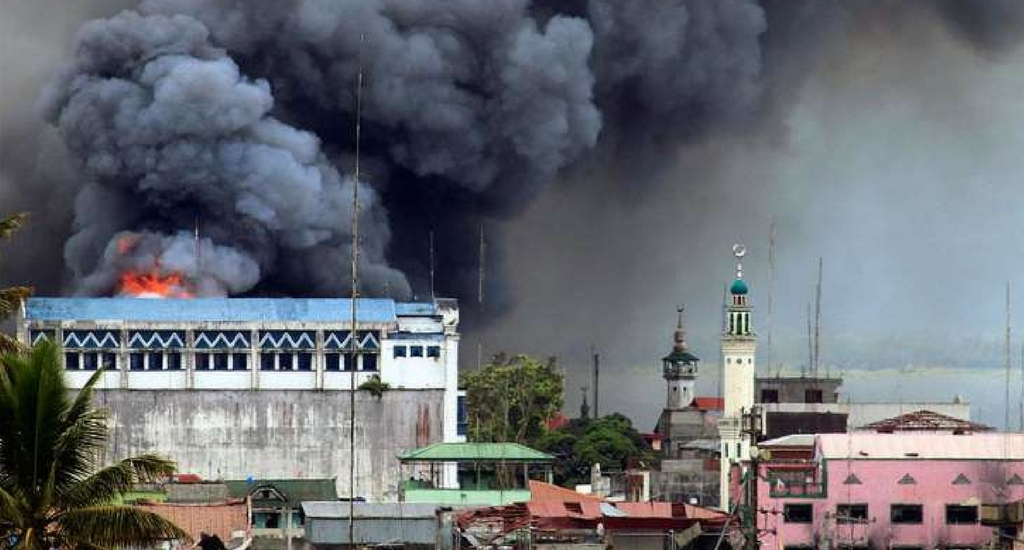 About 218,551 people have been displaced by the Marawi crisis, but only around 20,000 of those displaced are in 38 evacuation centers in Lanao del Norte, Lanao del Sur and Misamis Oriental. These evacuation centers are only designed to function as short-term shelters, as they are school buildings and basketball courts. But the Marawi siege has been ongoing for over a month now. More than 80% of internally displaced persons have not been accommodated in evacuation centers and as such have not received any support from the government. These IDPs have sought shelters in homes of friends and relatives whose resources are already stretched to their limits.
People are going hungry. Food supply has tightened in several towns as indicated by the increase in the prices of basic goods. For example, the price of rice, a staple food, has increased by more than 120 from its price prior to the crisis. Both evacuees and host families are going without food. Although the stretch of towns in the outskirts of Marawi up to Butig are rice-producing areas, the bulk of milling operations are in the city where power supply is relatively stable. Hence, much of the supply of milled rice from the harvest two months ago are trapped in Marawi. Contributing to the shortage of food supply is the stringent controls imposed by the military for the entry of goods brought by traders and relatives of evacuees through Malabang, in the province's southern part. Starvation has also expanded towards neighboring municipalities.
Rise Against Hunger Philippines set up on the ground response in Iligan City (about 23 miles from Marawi City) where a great majority of IDPs have evacuated. Assemblywoman Janimah Pandi, a Rise Against Hunger Philippines board member, is a member of the parliament of the Autonomous Region of Muslim Mindanao is based in Iligan City. She quickly mobilized local civil society organizations to handle distribution of Rise Against Hunger meals. Participating organizations included De La Salle Academy, Amai Pak Pak Emergency Response Team, Teach Peace, Build Peace Movement, Universidad de Zamboanga, SIRAJ-MRO Xavier University, Mindanao State University College of Law, Mu Kappa Phi Law Fraternity/Sorority, Rotary Club Marawi, I AM FITNESS HUB and Beta Sigma Fraternity.
About 200 families that were home-based evacuees were identified and given assistance. Our immediate response was to collaborate with Negrense Volunteers for Change Foundation, Inc. (NVC) in the distribution of over 382,000 sachets of Mingo meals. NVC Foundation operates a government-certified production plant and manufactures Mingo, a nutritious instant complementary food made of rice, mongo (mung beans), and malunggay (moringa). Mingo is primarily for infants and toddlers, but is also used for older children in areas of need.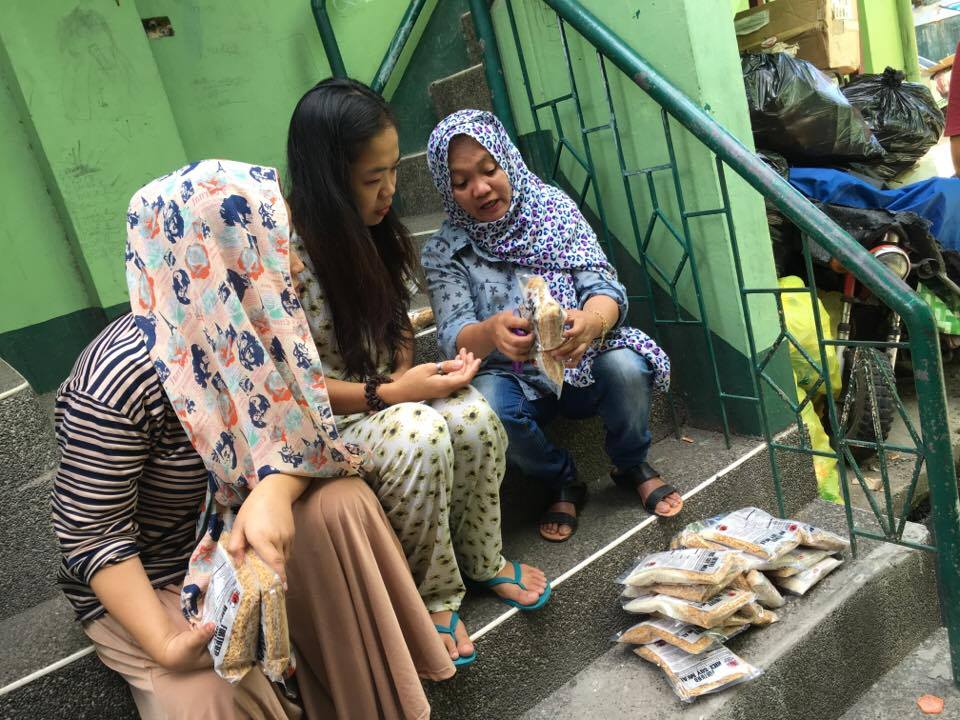 In Manila, we organized a consortium of private sector donors such the Philippine Coalition on Volunteerism, Saint John's Institute Bacolod, SimplyShare Foundation Inc., Hands On Manila, ORGANIQUE ACAI, Maybank, National Grid Corporation Philippines, PhilSteel Holdings and Nurture Wellness Village. Conrad Manila, part of the Hilton group of hotels which is a global partner of Rise Against Hunger, provided a venue to do a meal packaging event. We used the power of social media to crowd source for donations and volunteers. We raised almost $10,000 and mobilized 100 volunteers to pack 150 boxes of Rise Against Hunger meals on June 27. LBC, a logistics company, volunteered to air freight the boxes to Iligan City.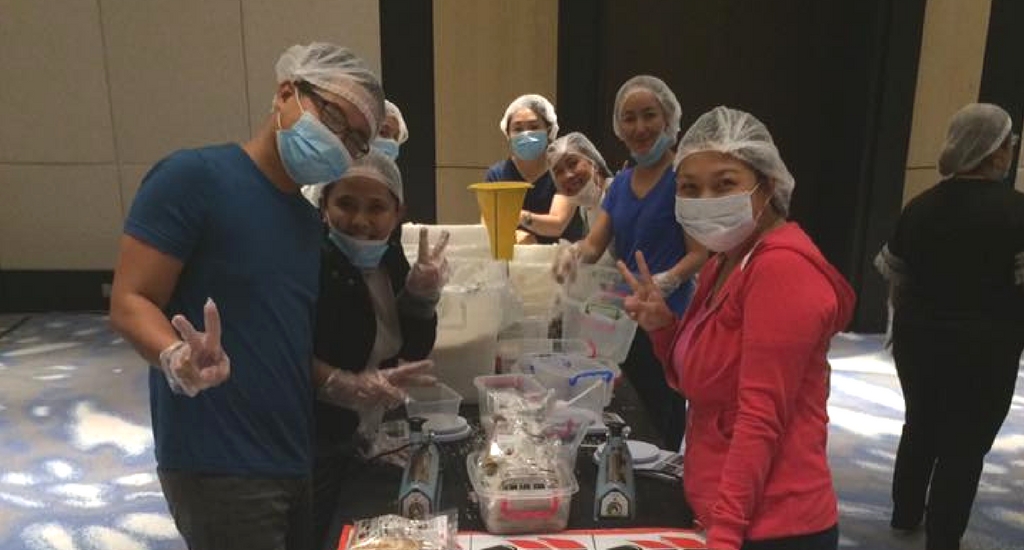 Our response is still ongoing. We will organize the distribution of meals in Iligan City. And are seeking donations from additional corporate partners. This is going to be a long process of helping people recover from this senseless conflict.
About Marawi: Marawi is the only Islamic city in the Philippines with 90% of its population predominantly Muslim. It is the capital and the largest city of the province of Lanao del Sur on the island of Mindanao in the Philippines. The land area of Marawi City is 33.80 sq. mi. and consists mainly of mountains, rolling hills and valleys embracing the placid Lake Lanao. The economy of the city is largely based on agriculture of rice and corn, and exporting of various crafts such as mats, woven textiles, wood crafts, bronze ware and gold jewelry.