Here is how we are taking steps to empower women
It is proven with evidence that providing women with access and control over resources can break the cycle of poverty and end global hunger.  According to the World Food Programme, "giving women farmers more resources could bring the number of hungry people in the world down by 100-150 million". 
It is quite heartening that girls and women are reclaiming their rightful place in the social structure across the globe.  Yet, deeply entrenched social stereotypes and biases are still prevalent in many communities leaving women and girls behind.  The bias is all-pervasive right from access to education to having control of land resources to household decision-making including in matters of a woman's personal choices. According to a report by the UN FAO, "compared with their male counterparts, female farmers in all regions control less land and livestock, make far less use of improved seed varieties and purchased inputs such as fertilizers, are much less likely to use credit or insurance, have lower education levels and are less likely to have access to extension services".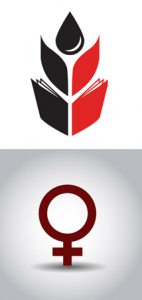 "Gender Equality Today for a Sustainable Tomorrow"
"Gender Equality Today for a Sustainable Tomorrow" is the theme of the International Women's Day (March 8).  To mark the occasion, a statement by the UN Women said, "without gender equality today a sustainable future and an equal future remains beyond our reach".  Because of the central role women play in improving household level livelihood and food security situation, Rise Against Hunger India has made a conscious choice to make its programs women-centric.  Here are some examples of how Rise Against Hunger India is promoting women's empowerment:
In 2021, over 275,000 women and girls received Rise Against Hunger India's dry, packaged meals. The proportion of women recipients has been above 50% in all the years. 
Total 5,428 (about 65%) of the regular meal recipients are women and girls – means these many recipients are consuming Rise Against Hunger India meals on a daily basis. Out of these, nearly 75% of the meals are served as mid-day meals through partners who are running schools, hostels and other academic programs. Meals ensure that girls are able to complete their schooling and improve their chance of securing better livelihoods for themselves and their families.
Also, Rise Against Hunger India has established partnership with groups (such as Karnataka State Domestic Workers' union, Sai Seva Sangh, Chaithanya Mahila Mandali, Stree Jagriti Samiti, Indira Vikas Prashiskhan Sansthan etc.) who work exclusively with women and girls.  All of them are primary recipients of the food and nutrition support from Rise Against Hunger India.
As part of a special project in 2020, about 300 pregnant mothers received nutritious meals and other support for 9 months – this program ran through the COVID first phase and provided much-needed nutrition to mothers when they were facing serious economic hardship

. 

Women have been the primary stakeholders in the goat rearing project in Dhar District, Madhya Pradesh. Ten Pashu Sakhis (friends of the animals), who received specialized training on deworming, AI, treatment of goats are all women from the villages where the project was implemented. With the enhanced knowledge, training, tools, techniques, and knowhow, now they are able to take care of their goats and provide service to others around them. Their economic and social standing has gone up in the communities.
In the recently launched SAMBAL Initiative that aims to bring sustainable livelihood and food security in vulnerable households, women have been kept at the center. One of the four characteristics of SAMBAL is: all projects under this initiative must have women as the key decision makers and end recipients of the project outcomes (the other three being: increased production, increased income and increased/diversified consumption). These projects in the first phase had only women farmers as the primary project participants.
In late 2021, a special training-cum-production unit was launched to support 30 physically challenged women who produce leather bags and similar merchandize items to augment their income (average income increase estimated to be between 3000 to 6000 Rupees).
To provide relief during peak summer in Western Odisha, for 3 years consecutively  women Self-Help Groups (SHGs) led an initiative to install and run water counters at common points where drinking water was not available in the vicinity.  Women members ran these counters and supervised distribution of supplements provided by Rise Against Hunger India.
These are some of the efforts Rise Against Hunger India has undertaken to keep women at the front and center of its field projects.  Even in its official workforce, the balance is tilted in favor of women now.  (One of the departments has 11 women staff out of total strength of 12 ).
Social and cultural biases are still entrenched in all parts of the world.  It should be everyone's efforts to develop understanding and appreciation for the role women play in building strong societies.  It can start with removing personal biases and gender-stereotypes.  This Women's Day, let us take the pledge to create a world free of bias, stereotypes, and discrimination; a world that is diverse, equitable, and inclusive.  It is time to #BreakTheBias.