#ShieldUp Campaign - TO Promote COVID Appropriate Behavior and Accelerate COVID Vaccination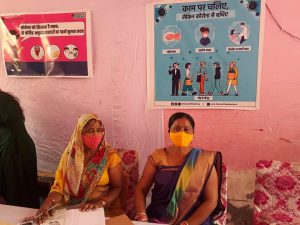 After emergency use vaccinations were approved by the Government and supply chain process was put in place, a massive COVID vaccination drive was launched across the country to vaccinate all eligible adult population as rapidly as possible. Despite constant messaging through multiple platforms and very active health team to administer vaccination, there were multiple hurdles such as registering oneself online and booking the slots; interest and ability of people to come to the designated vaccine centers;  concerns, doubts, myths, confusion and hesitancy about vaccination among some.  
Rise Against Hunger India launched a new campaign called #ShieldUp  to facilitate vaccination and to promote COVID Appropriate Behavior (CAB).  Given their grassroots presence and solid community relations, many local NGOs were roped in to encourage communities to carry out vaccination and adhere to CAB.  The campaign was launched to: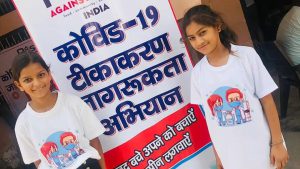 Promote Vaccine Acceptance and help eliminate/reduce vaccine hesitancy.
Organize, promote, facilitate and coordinate vaccination drive including facilitating registration and tracking process. 
Promote CAB among local communities. Provide masks, sanitizers and personal hygiene items to 
Support local health workers and officials is testing, tracing, treatment of COVID-19 affected population.
Facilitate meetings and interactions between health officials and local communities to clarify doubts and allay fears/misconceptions.
We received huge response from all over the country from local organizations to join the #ShiledUp campaign.  By end of November, the campaign has been successfully run in 18 Districts in 10 States.  
We have received very encouraging stories of communities moving from zero acceptance to full vaccinations, thanks to this campaign. 
#ShieldUp Impact: Vaccine Hesitancy to Full Coverage
Some villages in Saraiyahat Block in Dumka District, Jharkhand had zero vaccination coverage as there was strong resistance among the villagers about vaccine. The local healthcare officials were trying their best to mobilize villagers to get vaccinated.  Despite all their efforts, they had not been successful in convincing any villager to take the vaccine.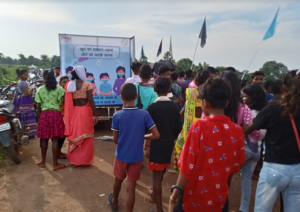 As part of the #ShiledUp campaign,  Rise Against Hunger India and its local partner Ayo Aidari Trust approached the villagers to understand the reason for their hesitancy.  It was found that the villagers were currently involved with harvest of crops. These farmers had noticed that in many cases, after vaccination, the recipient had to rest for 2-3 days to overcome associated weaknesses and fever. During the harvest season, farming households could not afford to lose 2-3 labor days and hence they were hesitant to participate in vaccination.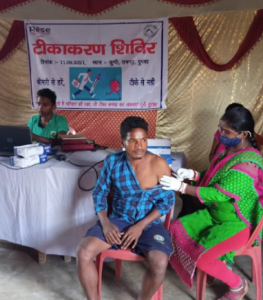 Representatives from Rise Against Hunger India and Ayo Aidari Trust had multiple discussions with the community and the farmers were convinced to participate in vaccination after the harvest season.  A" Vaccination feast" was organized after the harvest where these households participated in huge numbers to get their jabs.  Vaccine hesitancy was removed and the event was highly appreciated by the district level health department officials.