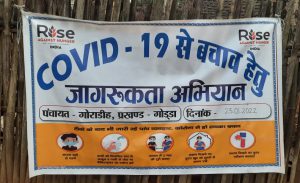 While food relief has been the main area of focus during its COVID relief work,  Rise Against Hunger India has also worked on other areas such as provision of medical kits, essential medicines, personal hygiene supplies as well as other items.  For the past nearly 5 months or so, the focus has shifted to facilitating vaccination and promoting COVID Appropriate Behavior (CAB) under the #ShieldUp campaign.  Over 50,000 people have been served under this campaign so far, thanks to the collective efforts of the frontline workers, field partners and volunteers.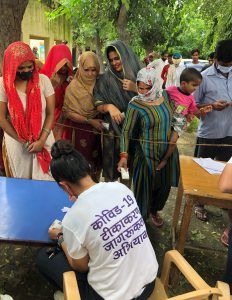 #ShieldUp  Campaign – Phase 2
India has seen a huge spike in COVID cases recent weeks in most areas including in the rural pockets. Though this third wave has not been as bad or devastating in terms of hospitalization or deaths as the second wave, public health authorities and experts have been advising against taking it easy and letting our guard down assuming the pandemic is over.  Government authorities have requested NGOs to sensitize general public about this and help in government's efforts to increase vaccine coverage and promote CAB. 
Under phase 2 of the #ShieldUp campaign, Rise Against Hunger India's field teams in Jeypore (Odisha) and Deoghar (Jharkhand) are organizing following activities: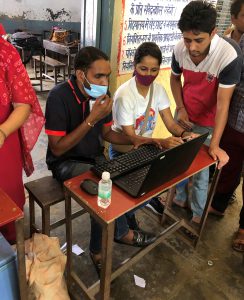 Facilitating COVID Vaccination – activities include  identifying those who have remained unvaccinated or have missed taking their second dose and organizing their full vaccination as per protocol; coordinating with local health officials and organizing vaccination camps in remote rural pockets (in some cases organizing transport for the health teams); organizing special vaccination for children between 15 and 18 years;  facilitating registration on COWIN portal or app or portal for those who cannot access these facilities.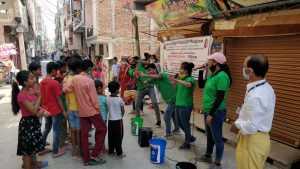 Creating Awareness on COVID Appropriate Behavior and Vaccination: through street plays, posters, pamphlets community bulletins and other messaging platforms spread awareness on the need to follow COVID protocols and guidelines as announced by the government health authorities from time to time; providing masks, soaps, sanitizers to local groups; facilitating sessions among youths and students to clarify doubts, concerns or queries on COVID.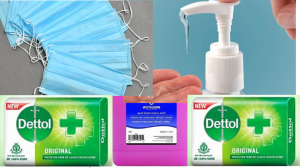 Organizing special sanitization drives: work with local groups, SHG members and volunteers to sanitize public areas such as chabutras (common sitting platforms), market places, Public Distribution (ration) shops, and other places where people assemble for different purposes; provide hygiene & sanitation kits including of mask, soap, bleaching powder and detergent etc. to volunteer groups. 
Staying healthy and free from disease is critical for any community to achieve livelihood and food security.  As many poor households have experienced last year, falling sick has not just health consequences, it also severely affects their overall economic situation leaving them much more incapacitated to bounce back.