Emeryville, California (June 21, 2017) – Rise Against Hunger and Clif Bar & Company joined forces in the fight against hunger on June 21, 2017, at the Emeryville Center of Community Life. More than 374 Clif Bar employees packaged meals to fight food insecurity and malnutrition around the world.
Rise Against Hunger (formerly Stop Hunger Now) meal packaging events are a volunteer-based program that coordinates the streamlined packaging of highly nutritious dehydrated meals comprised of rice, soy, vegetables and 23 essential vitamins and minerals.
"We believe sustaining our community is one of our responsibilities as a business," said Cassie Cyphers, Community Programs Manager of Clif Bar, which is headquartered in Emeryville. "It's an honor to partner with Rise Against Hunger to help address the critical issue of hunger in our global community."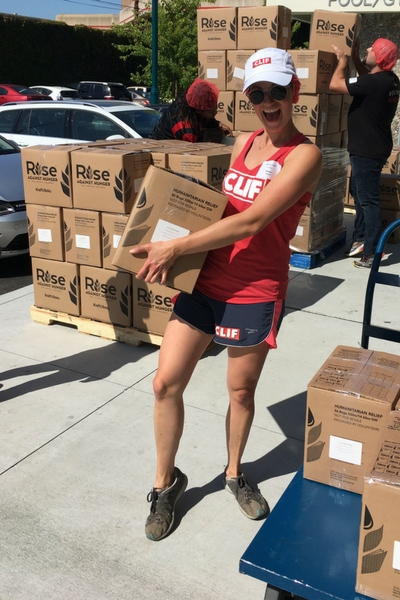 Through its Clif Corps program, Clif Bar employees are encouraged to volunteer in their local communities on company time. Last year, Clif employees donated 14,985 volunteer hours to a variety of non-profit organizations. Employees typically volunteer in small groups, but once a year, all employees in the Emeryville office volunteer together side by side to expand their impact.
Around the world, more than 792.5 million people lack adequate food. One in nine people in the world go to bed hungry each night. Rise Against Hunger meal packaging events give volunteers the opportunity to make a hands-on difference in helping to end world hunger. Rise Against Hunger works to meet immediate nutritional needs today and empower the ability to build strong, communities tomorrow.
Rise Against Hunger operates meal packaging locations in 20 cities throughout the U.S. and five international locations in South Africa, Malaysia, the Philippines, Italy and India. To date, Clif Bar & Company has packaged and donated over 150,000 meals for those in need.
Founded in 1998, Rise Against Hunger has distributed aid in the form of food, medical supplies, clothing, medical supplies and more to vulnerable people in 74 countries. In 2016, more than 376,000 volunteers from corporations, churches, schools and civic organizations packaged Rise Against Hunger meals. Since the inception of Rise Against Hunger's meal packaging program, volunteers in the U.S. and worldwide have packaged more than 331 million meals.
"We appreciate partners engaging together and packaging meals for the most vulnerable populations," said Karen Noe, Global Director of Partner Relations for Rise Against Hunger. "Clif Bar believes in Doing More Good Together, and we too believe this is how we will end hunger – doing good together. We are grateful to Clif Bar for their impact and partnership!"
About Clif Bar
Clif Bar & Company crafts nutritious and organic food to feed and inspire adventure, including the CLIF BAR® energy bar; CLIF Kid™, Nourishing Kids in Motion®; and LUNA®, The Whole Nutrition Bar. Family and employee-owned, the company is committed to sustaining its people, brands, business, community and the planet. For more information on Clif Bar & Company, please visit www.clifbar.com, check out their Facebook page at www.facebook.com/clifbar and follow them at: www.twitter.com/clifbar and www.instagram.com/clifbar.
About Rise Against Hunger
Rise Against Hunger (formerly Stop Hunger Now), an international hunger relief organization based in Raleigh, N.C., works to implement immediate and long-term solutions to hunger worldwide. With program locations in 20 U.S. cities and five international offices, Rise Against Hunger has engaged volunteers to package more than 331 million nutrient rich meals for distribution to 74 countries around the globe. To find out more about Rise Against Hunger's efforts to end hunger worldwide, please visit www.riseagainsthungerindia.org.