Cyclone Fani, extremely severe cyclone to hit Odisha coast in over 4 decades, left a trail of destruction forcing more than a million people to move to safer places.  Due to early warning and alert government rescue efforts, death toll was contained to 64; but the extent of devastation caused by FANI has been massive.  Nearly 15 million people in 16,659 villages have been affected, nearly half a million houses totally damaged and over 5 million livestock lost.  While the Cyclone affected 14 Districts, the worst affected District is Puri, known for the famous Jagannath Temple.   Within the District, hundreds of coastal villages in Brahmagiri and Krushnaprasad Blocks bore the heaviest impact of the cyclone.
Rise Against Hunger India team reached the field areas within 48 hours after the disaster struck and after conducting a rapid assessment, the team identified 3 villages Diharpur and Sapikpur villages in Niajpur Panchayat and Moto Palanka village in Palanka panchayat of Brahmagiri block.  These villages are primarily inhabited by fishermen.  Of the nearly 500 families, only few concrete houses have been left unaffected.  All other houses are fully destroyed.  Families were living in government schools, Anganwadis (preschool centers) or with relatives or neighbors with relatively better houses.
Based on the requests received from the villagers, Rise Against Hunger India put together a plan to quickly organize and pack relief materials.  Nearly 400 volunteers from multiple corporate groups, individuals and family members came together to participate in meal packaging and other activities to assemble relief supplies.  With the help of these volunteers, and using our internal resources, Rise Against Hunger India has sent the following items to the affected families: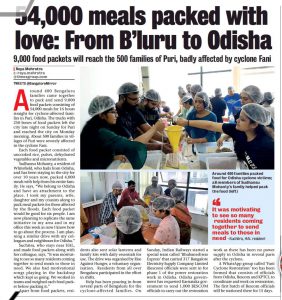 Packaged nutritious uncooked meals – 54,000 meals
Family kits comprising of essential household items (hygiene kits, toiletry, kitchen items, clothing, bedsheets etc.) – 500 units
Tarpaulins (200 pieces) and lanterns (500 pieces), torches (300 pieces)
Provision of these immediate relief supplies have helped families not to worry about urgent needs and focus on rebuilding their houses and livelihoods.  Given the enormity of the destruction, families will need continued support for 3 to 4 months.  Rise Against Hunger India would like to thank donors, volunteers and supporters for their generous help.  Please  click here if you want to make a donation to support our Fani Response efforts.