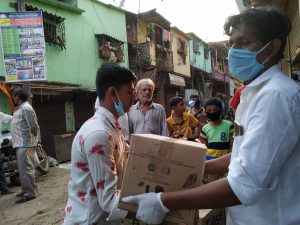 We are well into the 7th week of our COVID-19 Relief Operations and it has indeed been quite a journey. Thanks to the untiring efforts of all our team members, and more importantly, of the partners and volunteers spread across many cities and locations, we have been able to continue with our efforts despite some operational and logistical challenges.  Within 6 weeks of our work, we were able to mobilize and serve over 1 million meals to migrant workers, daily wagers, construction workers and others vulnerable groups who faced hardship during the lockdown.

Our team went through some steep learning curve during these past weeks – and we were able to quickly adapt to the changing situations to reach the needy population as fast as possible.  For example, due to lockdown restrictions, and the social distancing norms, we had to change our packaging process (one person packaging all items instead of several people engaged in the assembly line process).   But we soon realized that our pace of packaging was very slow compared to the requests from partners for our meals.  Also,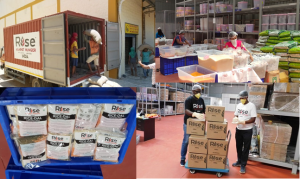 we started running short of some ingredients that go into our standard meal packets.  While rice and lentils could be procured with some efforts, commodities like dehydrated vegetables are procured from specialized vendors and they were not able to organize transport.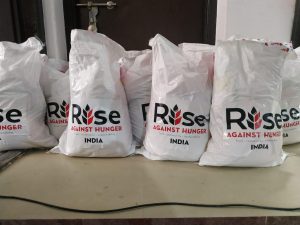 We had to make changes in our strategy mid-stream due to these constraints.   So instead of packaging meals in our traditional way (sealed and pre-labelled meal packets with rice, dal, dehydrated vegetables and micro-nutrients ), we moved fast to organize dry- ration kits for families (enough supplies of cereals, pulses and other essentials to sustain them for 2 weeks).   Once this change was made, we were able to organize the kits very rapidly in all our three warehouses.  This also enabled us to expand our partnership from the initial 21 in early April to about 75 by May 5. 

Switching over to dry-ration kit also helped us to move faster to other locations.   With support from incredibly efficient field teams and volunteers in Hyderabad and Aurangabad,  we were able to organize supplies for nearly 5,000 people in a matter of one week.   Distribution was coordinated locally with the partners such as Chaithanya Mahila Mandali and Chaitanya Shikshan Sanstha  on the ground.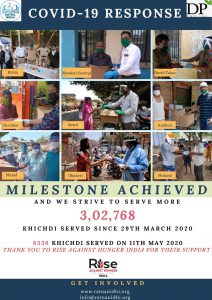 As of May 5, RAHI has served 533,500 meals in Mumbai (nearly 53% of total meals served as part of COVID-19 relief).  We are immensely grateful to our great partners Ratna Nidhi Trust who are running four kitchens in different locations within the city where 8,000 meals are being cooked daily.  A group of 45 volunteers and staff of Ratna Nidhi have been serving these meals throughout the city.  Meals are not only helping migrant workers, laborers and vendors, but sanitation workers, municipal staff and other essential service providers as well.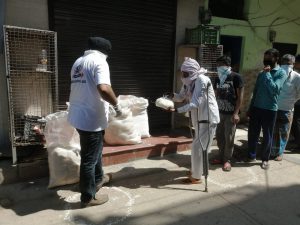 Together with our partners Global Sikh Aid and Prerna (Delhi), a special food-for-all campaign was launched in the first week of May with a helpline number for stranded workers or migrant laborers or anyone who needs food in Delhi, Punjab, Haryana and Maharashtra.  The team in Delhi has  been attending to calls and texts daily, and reaching dry food kits to those in need.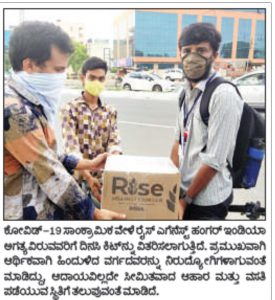 Similarly, in Bangalore too, our team was attending to multiple distress calls and messages daily from migrant workers and laborers.  In most cases, we were able to either directly provide dry food to them or connect them with organizations who are working in the area.  In one such incident, a group of 10 workers called us from a location in Bangalore where we did not have a partner.  Vignesh, one of our team members carried RAHI meal box on his bike and rode about 40 kilometres to deliver it to these workers.
As things stand now, it is going to take quite some time for the temporary workers, contract laborers or daily wage earners to get back to full time work.  The situation workers have gone through in the past six or seven weeks has forced many to return to their villages. It will take considerable efforts to regain their confidence and assure them of safety, protection, care and above all dignity.  We feel Rise Against Hunger India can significantly help in "workforce stabilization" by helping them with food and other support as they get back to work.  Our aim is to mobilize 1.5 million meals in the next 6 weeks to reach 2.5 million meals overall by June end.
This presentation gives the details of our Million Meals Milestone!
Support our Coronavirus Response Initiative.  To Donate, click here