The First Wave (March to October 2020):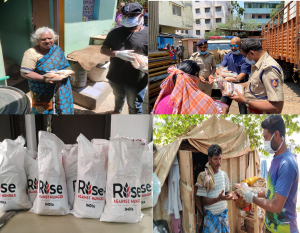 In the third week of March 2020, as cases of COVID infections surged in several metro cities, the country-wide curfew and lockdowns were announced.  Within the same week, Rise Against Hunger India launched its COVID response work reaching out to daily wage earners, casual laborers and other groups.  Despite multiple hurdles in terms of human resource capacity, labor and vendor related challenges, logistics and supply chain issues, Rise Against Hunger India was able to serve nearly 700,000 people in many parts of the country thanks to the generous help from some of our long-standing corporate donors and solid on-ground support from the field partners. The impact numbers of the first phase are below: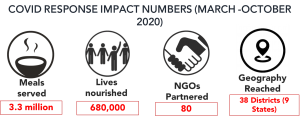 The Second Wave – (April – October 2021)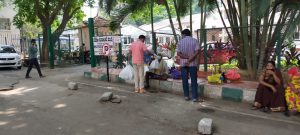 The second wave that struck India in March/April 2021 was much more aggressive than the first wave impacting directly almost everyone.  This was a real challenge for frontline organizations to coordinate and deliver relief as many got infected, lost their near & dear one or were simply scared to venture out.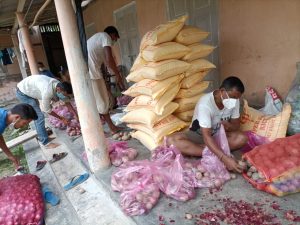 As number of cases jumped manifold spreading to all parts of the country including rural pockets that were left relatively unaffected in the first wave, the needs were much more than what was felt in the first wave.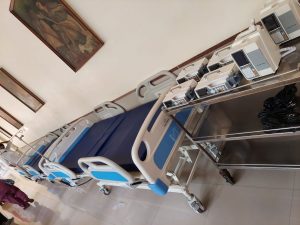 But this time, it was not just food.  With hospital capacities exhausted fully, new COVID care centers had to be set up.  In many areas, there was huge shortage of oxygen, essential medical supplies, COVID Care kits, hospital equipment & accessories etc.  With sudden spike in the number of deaths, even crematoria and burial grounds were fully choked leading to long waits for bodies to be cremated or buried.
The experience in dealing with supply chain and logistics issues in the first wave helped in organizing relief much efficiently this time. For example, advance arrangements were made to procure and stock up inventories. Also, vendors were identified closer to the relief distribution points which enabled quick procurement and delivery of relief to the affected people. 
The diagram below captures the range and categories of work we did during the second wave.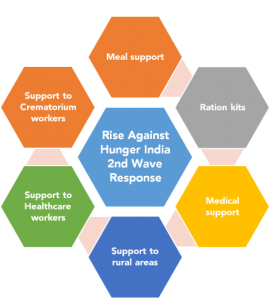 Rise Against Hunger India COVID Second Wave Response Impact Numbers:
Unlike in the first wave, where we focused primarily on providing food, the second wave response was much more diverse, wide-spread and multi-pronged.  Here are the overall numbers as of October.

 Activity Highlights:
The impact number does not fully convey the range of services we provided to different groups during our COVID second wave response.  Therefore, a brief summary of different kind of relief support is listed below for reference.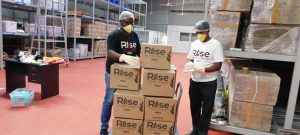 Provision of fortified packaged meal boxes (uncooked khichdi mix of rice, dal, dehydrated vegetables and a vitamin sachet) in Delhi, Bangalore, Mumbai and other locations where logistics allowed delivery of these.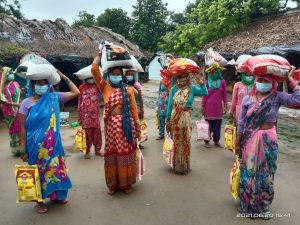 Provision of dry ration kits (rice, dal, oil, spices etc.) in rural areas through local vendors spread across 60+ districts in 14 States.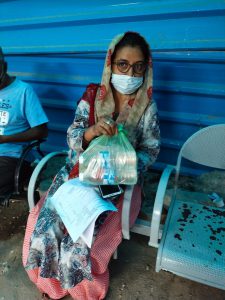 Supply of ready-to-eat food packets (fruits, breads, biscuits, juice, water etc.) to hospital workers, crematorium staff, attendants & relatives of patients near the hospitals and crematoria.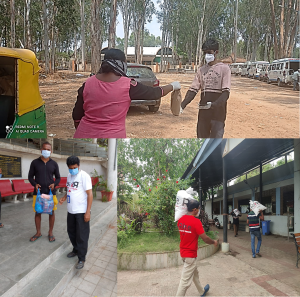 Under a special project SAATHI, supply of packaged meals for crematoria workers, most of whom were temporary or contractual workers.
Provision of sanitizers, hygiene kits, masks, medical equipment and essential medicines to hospitals and COVID Care Centers in Mumbai and Delhi.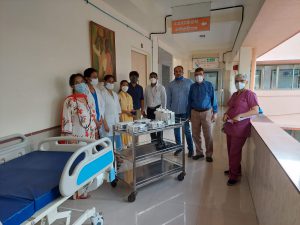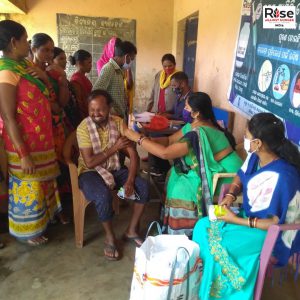 Facilitating vaccination drives, removing vaccine hesitancy and promotion of COVID Appropriate Behavior through the special #ShieldUp campaign in unreached and underserved areas.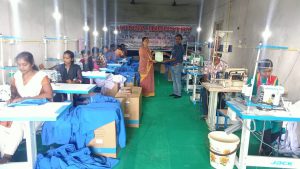 Rehabilitation and livelihood restoration support to a group of textile workers and tailors who had lost their jobs during lockdown. The  small unit created with a nominal working capital from Rise Against Hunger India has now been drawing attention from local customers including schools. The tailors are now stakeholders in their own business and are taking bulk orders.
In conclusion, Rise Against Hunger India team feels thankful that nearly 1 million people were served with nearly 7 million meals and other emergency relief assistance.  When the first wave response was launched in 2020, there was no idea about the volume or scale of the effort. On hindsight, it looks like such a huge accomplishment.