Over 2,000 volunteers from HERE Technologies, the global leader in mapping and location platform services, came together in Mumbai on December 6, 2019 to package 303,912 meals that would help support nearly 3,000 school children, elderly people, disabled, HIV+ people served by 12 community partners of Rise Against Hunger India.   This event also marked completion of 1 millionth meal  packaged by HERE Technologies in partnership with Rise Against Hunger in seven countries including France, Germany and the U.S.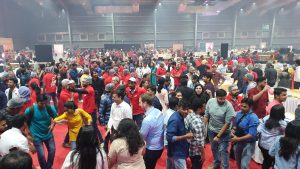 Here Technologies titled their engagement this year as 
#
RAHI2
.0 and quite appropriately so – not only was this their second successive year of active contribu
tion to ou
r global hunger action movement; it was also beginning of a new iteration of Rise Against Hunger India's outreach program thro
ugh a new technology solution designed by HERE IT team pro-bono exclusively for our use. With the new technology, Rise Against Hunger India will be able to direct the meals to areas of utmost need; and identify the use, consumption and effectiveness of meals by the end recipients.  After the pilot phase, the technology will be implemented across all the locations where meals are being p
rovided to community partners.  This will not only significantly improve the effectiveness of the meal distribution system of Rise Against Hunger India, it will be quite useful in getting projected requirements based on the realistic utilization report from the partners.  
The event in Mumbai will be certainly one of the grandest and hi-tech events ever hosted by Rise Against Hunger India. 
HERE Technologies team has
taken the concept of volunteering few notches higher . It's a privilege to work with these great
#
HungerWarriors
 (the packaging teams were named Warriors, Ninjas, Gladiators, Samurai and Knights – all signifying fight against Hunger).
Addressing the team of volunteers at the event,
Mr. Damandeep Kochhar, VP – Global Content Operations, HERE Technologies
, said,
 "as per UNICEF's The State of the World's Children 2019 report, malnutrition caused 69 per cent of deaths of children below the age of five in India. The unavailability of quality nutrition is one of the biggest life threats to a major chunk of India's population. Rise Against Hunger is known for its continual commitment to eliminate hunger and they have taken commendable steps in providing wholesome meals to people in need. This year, not only did we pack 3,00,000 meal packets within two hours, but we also achieved another key milestone – packing the millionth packet globally. As always, this partnership gave HERE employees an opportunity to come together, collaborate on a massive scale and redress a major socioeconomic issue of India…"
The event was covered by various news outlets – for further details click
here !