This year, in its partnership with Rise Against Hunger, The Hershey Company has packaged over 1 million meals to go to aid those in need around the globe. Katrina Briddell, Manager of Philanthropy and Community Engagement at Hershey, shared her thoughts on Hershey's continuing partnership with Rise Against Hunger and the excitement around reaching the million meal milestone.
Q: What inspired you to join the movement to end hunger?
A: Three years ago, The Hershey Company made an intentional commitment to use its capabilities as a food company to help ensure children have the nutrition they need to learn and grow. We launched Nourishing Minds — our shared social purpose — with an ambitious goal to help provide adequate nutrition to over 1 million children. We're doing this through a mixture of initiatives, ranging from philanthropy to social innovation, using our business model and product development capabilities to make an impact on the issue.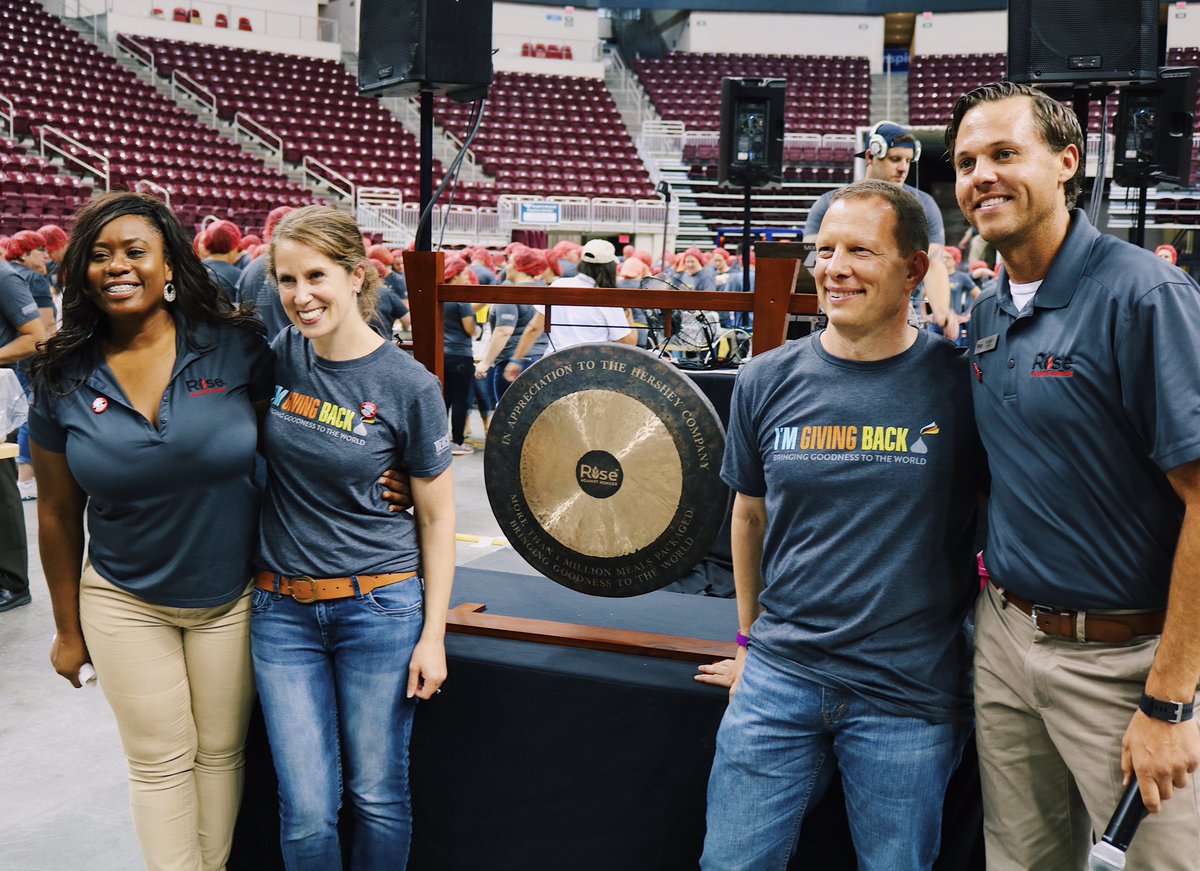 Q: How did you initially become involved with Rise Against Hunger?
A: Hershey and Rise Against Hunger first partnered together three years ago to engage a large number of employees in Hershey, Pennsylvania, around a common volunteer activity, as part of our global week of service, Good to Give Back Week.
Q: How has The Hershey Company been involved so far?
A: We've been thrilled to continue hosting Rise Against Hunger Meal Packaging Events for our employees in Hershey every year since 2014. This past year we had over 800 volunteers in attendance, and we've also had participation from our Hershey India and Hershey Philippines teams for the past two years as well.
This year, we also worked jointly with Rise Against Hunger to create an interactive space at the Meal Packaging Event in Hershey, where our employees could taste the meals and learn more about the issue of global hunger.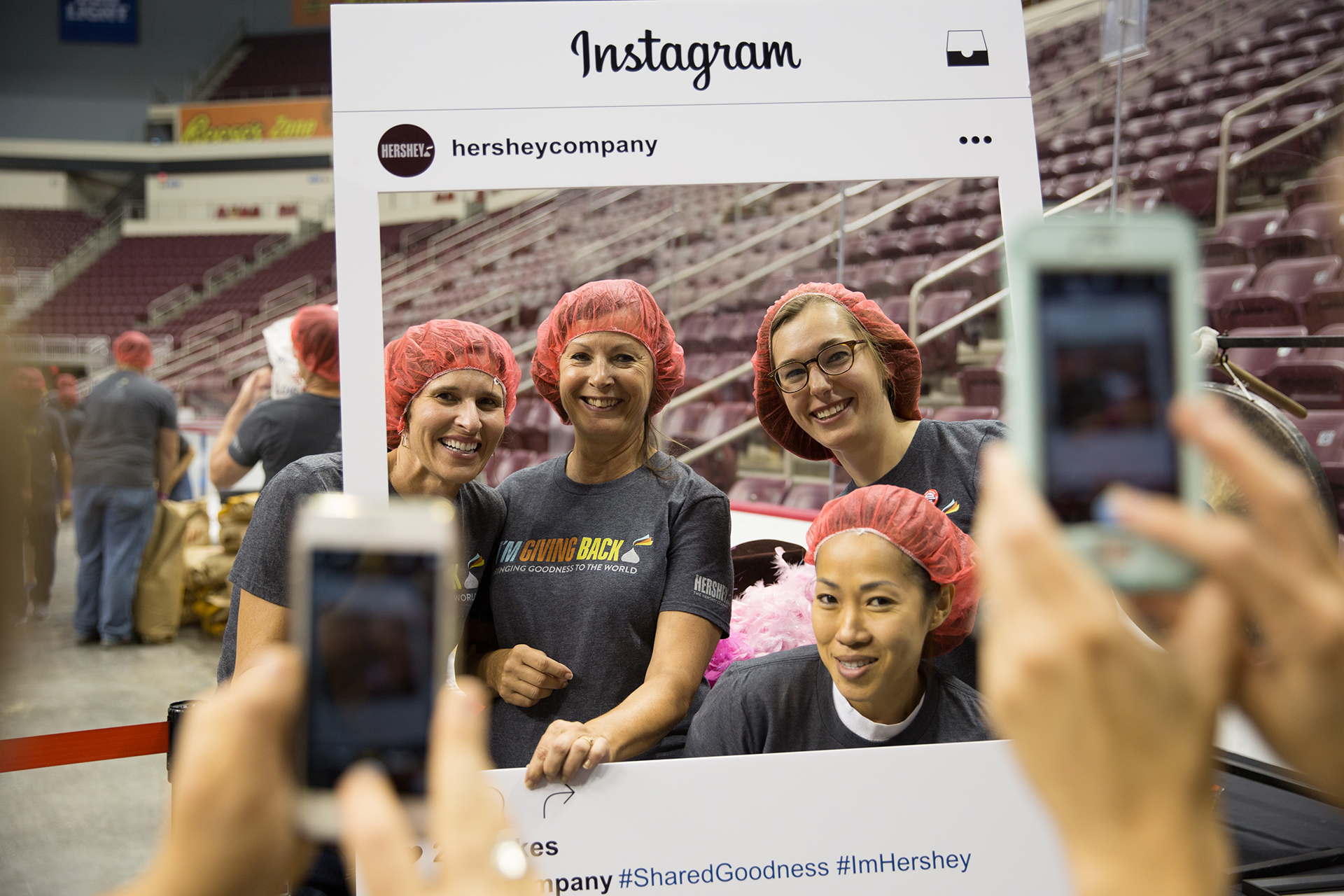 Q: How has the Rise Against Hunger partnership helped advance your CSR goals?
A: Rise Against Hunger has been a valuable partner in bringing our commitment to Nourishing Minds to life from an employee engagement standpoint. The near-flawless execution of these large-scale Meal Packaging Events means so much, as we want every employee to come away having had a great experience while giving back. Rise Against Hunger has also been a source of knowledge and expertise as we have looked to identify end-recipients for the meals that align with our Nourishing Minds efforts.
Q: How did the million meal milestone impact your employees and your CSR program?
A: I think everyone at Hershey feels immense pride for having reached a company meal total of over 1 million meals. We are thrilled and already looking ahead to next year, more committed than ever to continuing the momentum.
Q: How do you plan to continue your efforts to fight hunger in the future?
A: In addition to our work with Rise Against Hunger, we are continuing to focus on increasing distribution of ViVi, our nutritional snack supplement created in partnership with the Ghana School Feeding Program. Right now, it is distributed daily to over 50,000 school children in Ghana. Our hope is to replicate this program in other West African countries, and we are also laying the groundwork for similar efforts that combine philanthropy and business models in other locations to help ensure more children have access to basic nutrition.
Here at home in the U.S. and Canada, we continue to partner with our retail customers on hunger efforts as well as deepen our existing partnerships with Feeding America and Food Banks Canada, through support of backpack programs, school food pantries and after-the-bell programs.
To learn more about Rise Against Hunger's corporate partnership opportunities, please visit the Engage Your Workplace page.