While providing immediate food aid and creating safety-nets for the vulnerable groups has been one of its core program areas, Rise Against Hunger India has also been working towards empowering communities to achieve sustainable food security. Towards this objective, Rise Against Hunger India implements micro-level community based projects to augment household income and improve family capacity to deal with shocks & uncertainties.  Due to loss of income and wages among the workers caused by COVID-19 pandemic , this is now emerging as a key area of our work.  Here are few examples of Rise Against Hunger India's livelihood micro-projects.
Banana and Pineapple cultivation, Meghalaya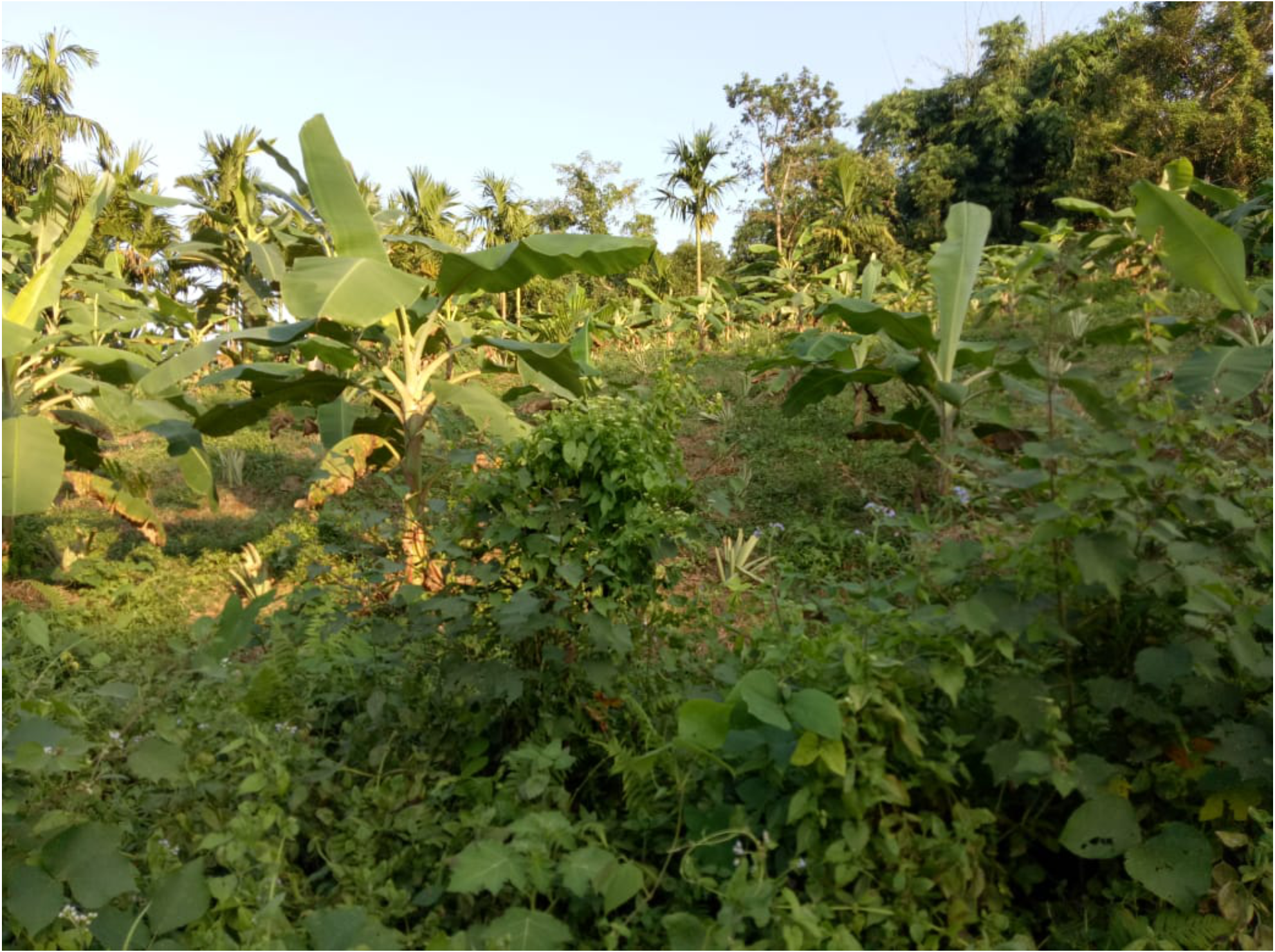 Rise Against Hunger India, in partnership with Society for Action in Community Health (SACH), has supported farmers with 5,000 banana saplings and 19,000 pineapple saplings to grow as commercial crop in Jirang Block, Ri-Bhoi District, Meghalaya.  Under the guidance and technical advice of Krishivigyan Kendra (KVK – agricultural science center), saplings suitable for the hilly terrains were selected.  Farmers also visited demonstration sites to learn how to grow these crops more scientifically.   Farmers Producer's groups were formed in the villages to collectively market the produce.   With support from some corporate donors, SACH was able to install a banana-chip making unit.  With these efforts, each farmer in these remote and hilly villages is now able to cumulatively earn around 30,000 to 50,000 Rupees in a year only from these crops.
commercial vegetable farming in odisha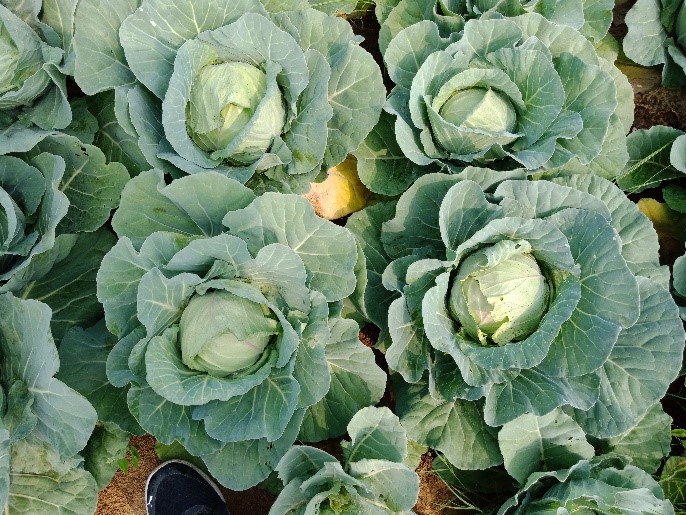 In 20 drought-prone villages of Balangir and Bargarh Districts, Odisha 798 farmers were organized into five clusters to make government services accessible to the farmers.  Many farmers were deprived of the benefits offered by the government due to lack of adequate information. Under this, series of interface between government line department officials and the farmers were organized.   This process helped farmers receive transparent and accurate information directly from the government officials.  As farmers started coming together regularly, Rise Against Hunger India helped 20 farmers with demonstration plots to grow vegetables for commercial purposes.  Farmers were trained and assisted by government extension workers and researchers from the district agro-science center on scientific methods of cultivating and growing vegetables .  The initial results have been extremely positive – this region being drought prone, many farmers had almost abandoned their farm.  With vegetable cultivation, farmers have been able to generate profits ranging from 15,000 to 20,000 Rupees per acre.  Other farmers have expressed interest to move to horticulture as well.  Before scaling up on this, it is essential to get ready with other support areas such as marketing, processing, cold-storage and other facilities.  This is under process in one cluster.
Goat Farming in Dhar, Madhya Pradesh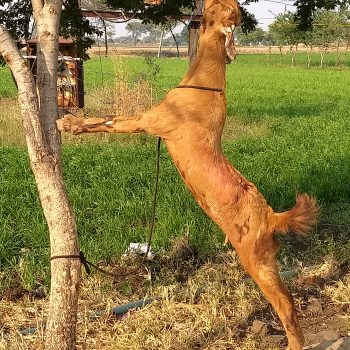 In Tirla Block of Dhar district in Madhya Pradesh, goat farmers from the indigenous Bhil tribes, are being supported for improving their breed of goats, creating kid nursery and raising goats as a commercial livestock option.  In the first phase of the project, 200 families have been provided with goats.  With support from our technical partners the Goat Trust,  women from the villages have been trained on  preparation of homemade medicine,  de-worming, making nutritious feeds for the goats and other aspects of goat care.  These farmers are in the process of forming a local level federation to collectively market their goats (Goats will be graded and rated scientifically so that market price will be fixed for each one).  This project is in its second year, and despite some initial implementation challenges, it is looking very promising.   The income of goat farmers is expected to grow by 90 percent through scientific management of goats.
commercial millet farming in drought-hit areas of Western Odisha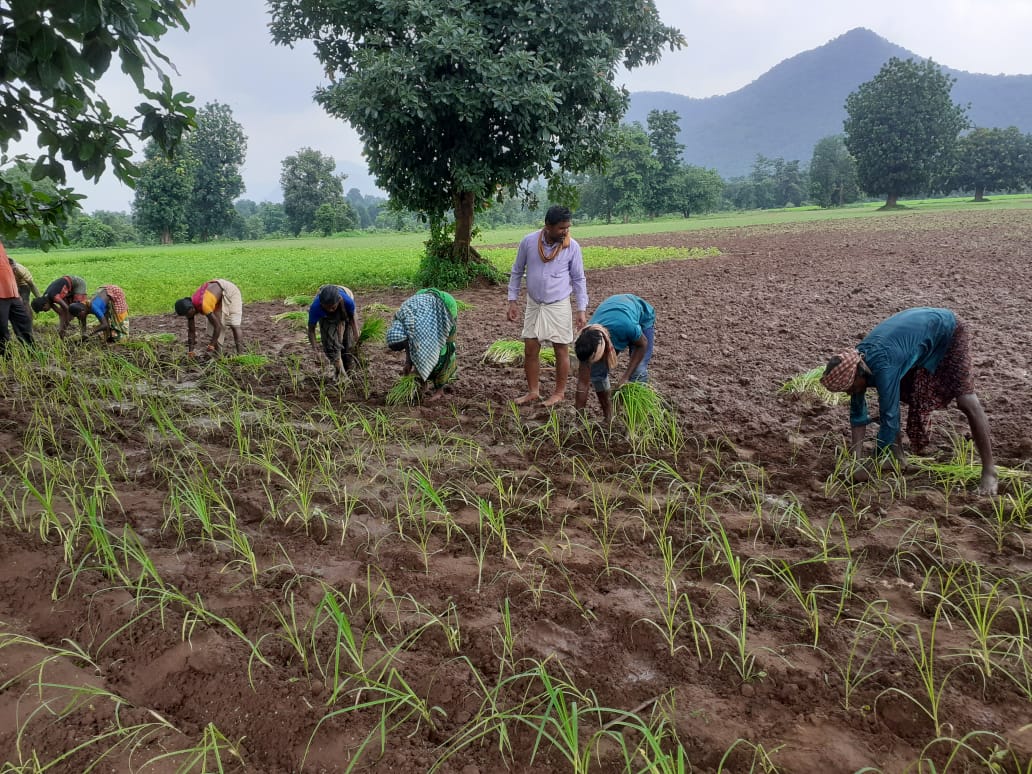 In Bargarh district of Odisha, 600 small and marginal farmers under 4 Farmers Producers Organizations (FPOs), have received support for creation of Custom Hiring Centers, Seed Bank and Tool Banks.  Farmers are now able to access these machines and tools, and other shared resources at a nominal cost . As this region is drought prone, farmers were finding it hard to stick to traditional paddy cultivation.  They have now  taken up climate-friendly millet cultivation in their villages which is turning out to be commercially very profitable, compared to other crops (in terms of cost vs outputs, finger-millet has proven to be the best crop for the region).  Also, millet is being promoted by local government due to its nutritional values.  The idea behind this project is to provide a stable source of income to the small and marginal farmers who used to migrate to the nearby towns and cities as migrant laborers.  Rise Against Hunger India is in the process of mobilizing support for other value-added products such as millet-flour and millet-biscuits to increase that shall return higher profit to the farmers. The income of millet farmers in Bargarh is expected to grow by 100 percent.
Few other projects are being designed in different States including in some urban locations to exclusively support workers who have suffered economic losses due to COVID-19 pandemic.