Rise Against Hunger India food relief service reaches to 44 Districts
The effect of the aggressive and brutal second wave of the COVID-19 pandemic is felt everywhere and by almost everyone across the board in India. During the first wave, the medical system was able to manage the load. So the main visuals that were coming out of India in April-May 2020 were that of large numbers of migrant workers walking miles leaving from towns & cities to their native places. The second wave, however, caught many unawares and the virus spread like wildfire. Health systems in the country could not cope with this rapid surge. This time, the main visuals and messages were primarily related to people waiting outside hospitals or scrambling for beds/oxygen/medicines, or of mass burning or burial of bodies.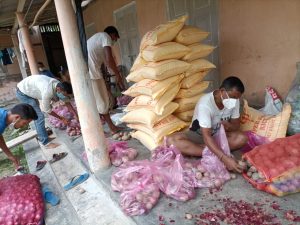 With the virus rapidly moving to second and third tier towns as well as to rural areas, most state governments resorted to lockdowns at the local or regional level as the main method of choice for containing infections. This posed tough livelihood and food insecurity situations for many families who were largely dependent on daily wage income. As most attention was paid to supply of oxygen cylinders/concentrators and drugs/medicines to healthcare facilities (largely in few main cities), many grassroots support organizations faced challenges to organize even basic relief provisions for households. This gives a context to Rise Against Hunger India's ongoing relief work during the second wave.
In early April, when the 2nd wave started hitting major cities, the Rise Against Hunger India team quickly mobilized its partners in Bangalore, Mumbai and Delhi to deliver food, drinking water and any other essential relief we could organize immediately. Some of our corporate partners did encourage us to set up COVID Care Centers or Quarantine Centers, but we did not feel confident about getting into something like that because Rise Against Hunger India did (does) not have this expertise. Hence, we stayed focused on food and nutrition relief. A glance at the range of activities undertaken by Rise Against Hunger India:
Packaged meals or dry ration are being provided for families who have suffered major economic setbacks during the pandemic and or have no economic wherewithal to sustain themselves (both in rural and urban locations).
Cooked meals are being given in some locations to patients, attendants, and others at hospitals & Covid Care Centers.
Special food and nutrition support to crematoria, cemetery and burial ground staff – Project SAATHI (companion). Under this project, around 500 families are being supported.
Providing ready-to-consume food/water to patients, attendants, hospital staff, cremation ground staff, essential workers, traffic and police personnel.
Provision of essential medicines, medical equipment, accessories, PPE kits, hygiene kits to government hospitals, clinics and COVID Care Centers.
Overall Impact (June 06)
Initial focus of our relief efforts was in three main cities. Around mid-May, after connecting with a few partners on the ground, Rise Against Hunger India extended support to rural areas and in the past few weeks, food relief has been delivered to communities in Assam, Rajasthan, Maharashtra, Odisha, MP, Haryana, Karnataka, UP, AP, Jharkhand and West Bengal. Here are some key impact figures as on June 6:

Experience of Organizing Relief in the Second Wave
This time around, organizing relief has been quite a challenge not just for Rise Against Hunger India, but for most organizations as many frontline staff got infected or had family situations due to COVID. So the key problem was having second/third line support to continue operations. The relief effort has continued without major disruption primarily due to super active groups of volunteers, NGO partners and a trusted group of vendor partners across the country.
Way Forward: Relief and Beyond
In the backdrop of the news about a looming third wave, it is now anybody's guess when things will get back to 'normal' pre-COVID situation. While immediate relief must be provided to the vulnerable population, efforts must also be made to restore livelihoods of the marginalized & poor households, and to support them in building back their lives. One survey reported that 230 million Indians have been pushed to poverty due to COVID-19. A recently published article says, "Households in India bore a massive 61 percent of the income loss due to COVID-19, one of the highest in the world." The path to recovery will not be easy for many.
Keeping this overall fluid context in mind, Rise Against Hunger India has developed some broad plans for the short and medium term.
Continue with the ongoing relief efforts in both urban and rural areas with special focus on extremely vulnerable groups. Calibrate pace of efforts based on the easing of the situation. The aim here is to be ready to arrange and deliver 3 million meals (our standard packaged meals or dry-ration kits).
Initiate/accelerate the food and nutrition support drives such as 1) Project SAATHI for families of crematoria and burial grounds staff and 2) project for pregnant mothers and young children (as part of 1st 1000-days program)
Expand partnership to grassroots organizations who are directly working with the communities to deliver food relief. Due to funding restrictions, no sub-grants will be released. Rather, vendor partners will be vetted across the country to quickly organize supplies. For field-level delivery and distribution, establish partnership with at least 120 local NGOs, community groups, volunteer groups.
Work with field partners and community groups to spread awareness around vaccinations, Covid Appropriate Behavior, community safety norms etc. Wherever possible, mobilize volunteers to support and facilitate vaccination drives in local PHCs/CHCs.
Strengthen ongoing sustainable livelihood projects already underway in a few locations under SAMBAL initiative – and initiate the process with new geographic clusters. Once the field mobility restrictions are removed, launch additional livelihood restoration projects focused on agriculture, urban skill-based income generation activities, production and marketing of rural products. The aim is to plan for 20 micro-projects and quickly implement as many as possible.
Rise Against Hunger India has been able to organize all its efforts thanks to the invaluable support from multiple corporate partners and individual supporters. However, as experienced by many other NGOs, so far there has been limited funding support for non-medical relief items. But of late, the focus is shifting to food, livelihood and rehabilitation support. So hopefully new funding avenues will be available to NGOs such as Rise Against Hunger India in the coming days.