COVID-19 – What Can Stop the Waves?
COVID-19 is coming back in multiple countries in series of recurring waves. India is just recovering from a very devastating second wave and there is already alarm being raised for a third wave knocking on the doors.  Scientists and health experts suggest that there is only one solution to prevent or at least reduce the effect of the pandemic: get all eligible people vaccinated.  Till this happens, and even afterwards, what can save people is following COVID safety norms and applying COVID Appropriate Behavior (CAB).  In summary, Vaccination and CAB are the only antidote to prevent repeated waves of COVID-19.
India's Vaccination Drive: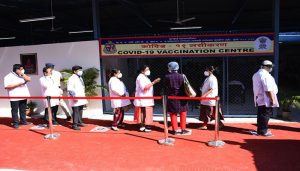 India has launched its mass vaccination program covering all adults over 18. Most States have reported high uptake on vaccine coverage in the past week or two.  However, there are also pockets of resistance and vaccine-hesitancy.  To inoculate nearly a billion people is quite a daunting task, but India has in the past run successful vaccination drives with very high level of coverage.  Since the pandemic is rushing ahead with mutations and new variants, speed is of essence.  Therefore, it will take collective efforts and mobilization support from local organizations across the country to cover all eligible population as fast as possible (subject to vaccine availability, of course).  Given their grassroots presence and solid community relations, local NGOs can play a very important role in accelerating vaccination drive and encouraging communities to practice COVID protocols.  The Prime Minister of India encouraged government officials to involve NGOs in their efforts to reach out to people.
Rise Against Hunger India Plans:
Rise Against Hunger India is launching a new campaign #ShieldUp to add its bit to the ongoing efforts of the government in 1) in getting all eligible population vaccinated and 2) promoting & disseminating messages on adapting COVID safety protocols. The aim is to engage as many NGOs from its network of over 240 partners across the country and invite others too to join hands in this efforts. As can be seen from the list of the activities outlined below does not need much funding as these primarily involve coordination, mobilization and liaison etc.  Rise Against Hunger India will offer technical and design support to all willing partners and wherever required some small funding support to prepare dissemination materials.
Field Activities Proposed:
Summarized below is an indicative list (not exhaustive), as a starting point. Using this generic list, field organizations can develop their own sets of activities suited to their location: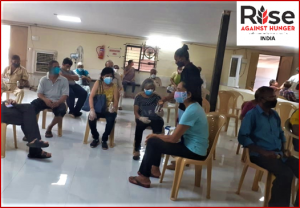 Promote vaccine acceptance, help reduce and eliminate vaccine hesitancy. This includes working at the community and neighborhood level to make people aware of the vaccination process, location and schedule etc. using leaflets, banners, events, and other methods. Volunteers and NGO representatives can address queries, doubts and concerns among the general public about vaccination and related matters.  The FAQ/guidelines  from the MOHFW  can be used as an authentic and readily available source of information for use to clarify doubts and queries.
Organize, promote, facilitate, coordinate vaccination drive: Local organizations can help disseminate information about vaccination schedule and locations, process to register oneself, precautions to be taken. They can also help organize vaccine camps in central places that are easily accessible by communities. Volunteers can be deployed for manning the vaccine centers, helping disabled, incapacitated, elderly etc. If possible, and if the health officials agree to do so, organize or participate in special Vaccine Days. NGOs can work with health officials to identify the unreached and remote pockets and facilitate vaccination in such areas.
Promote COVID-19 appropriate behavior (CAB) among local communities: Through community broadcast system, pamphlets, posters, flexi designs and other communication methods, popularize the key messages regarding COVID-safety and CAB. Ministry of Health and Family Welfare (MOHFW), Government of India (https://www.mohfw.gov.in/) and most State Governments have developed great set of public awareness materials which can be used for this purpose.  Some of these guidelines and graphics are available in this shared folder https://bit.ly/364S5tM.  Also, the Facebook page of MOHFW https://www.facebook.com/MoHFWIndia/ has many useful graphics and guidelines. Based on these, messaging can be designed in vernacular languages (songs, plays, jingle, slogans etc.) too.
Support local health workers and officials in testing, tracing and treatment of COVID-19 affected population as and when such a situation arises. In some rural communities, NGOs have helped organize testing drives and this has helped in timely identification of cases & preventing further spread. Our field partners can act as an extension of the local health system and provide much needed human resource support to carry out COVID-19 testing in their locations. They can also bridge the communication gap between communities and health officials if required.
Organize sessions and interactions with health officials: Special orientation and training sessions can be organized for NGO team members, relevant elected representatives, community leaders on key messages and protocols. Wherever needed, local organizations can facilitate face-to-face dialogue between community members and public health teams to clarify doubts or misconceptions. Also, prominently display or let people know who to approach for COVID-19 related matters or if they have a query.
This campaign starting with few existing partners of Rise Against Hunger India.  However, other local groups or organization interested to be part of this campaign are free to join – they just have to fill this form expressing their interest.